Our Key Elements team of practitioners in Green Bay, WI
Gail Okray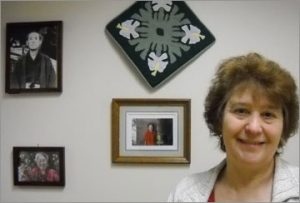 Gail Okray was inspired by her passion for the Japanese art of Jin Shin Jyutsu® to open Key Elements for Health. She has been a Jin Shin Jyutsu® Physio-philosophy practitioner since 1998. Over the years, Gail has motivated hundreds of individuals to move toward a healthier and more vibrant life through this ancient Japanese art. Gail loves to work with clients of all ages—babies, young people, and adults.
A life-altering illness led Gail to find Jin Shin Jyutsu. Gail's own experience with chronic pain associated with fibromyalgia brought her to this ancient Japanese art. Through Jin Shin Jyutsu sessions and the power of self-help, Gail was able to help herself move from a state of pain, muscle discomfort and weakness to a fuller and more productive life. Chronic pain sufferers who seek Gail for treatment options appreciate her gentle touch and personal experience of living through chronic pain. Gail is a huge proponent of the power of self-help and empowers each client with personalized home care between sessions.
In addition, Gail has found that removing gluten from her diet has helped her health quite a bit. She's even written a cookbook on gluten-free desserts! Her e-book, Beyond Gluten-Free: Decadent Desserts for Gluten Free Living, is available on Amazon.
Gail shares her knowledge of the Japanese art of Jin Shin Jyutsu® with the community through self-care workshops, and via community outreach programs such as Learning in Retirement, the Aging and Disability Resource Center, Beacon House, and Triumph Cancer Resource Center, Inc. Gail is also a resource to local practitioners by leading Jin Shin Jyutsu® study groups and organizing practitioner-level classes in Green Bay, WI.
Ryan Okray
My name is Ryan Okray (you may recognize my last name). As you can imagine, I was introduced to Jin Shin Jyutsu at a VERY young age, so I've been around it all my life. I've personally experienced the benefits of JSJ—from injuries to illness to fatigue and more—and I want to help others get the same relief I did. That's why I decided to become a practitioner. I want to introduce this art to people my age. If it made such a difference in my life, imagine what it could do for them!
I live in Green Bay, Wisc. I have a Digital Media degree from NWTC, and I'm a videographer. (You've probably seen some of my work on our webinars and YouTube page.) I also love animals: I grew up around Boston Terriers, and I have two cats. I've seen first-hand how Jin Shin Jyutsu can benefit animals, from newborn pups to senior dogs, horses, chickens and cats.
I feel like I'm in a unique position to share this art. I've been a client, I've told people's stories through the videos I create, and now I'm also a practitioner. It all boils down to this: I absolutely love seeing how Jin Shin Jyutsu changes people's lives.
Packers Mentor-Protégé Program
Gail is a proud alumnus of the Green Bay Packer Mentor-Protégé Program, a local business advisory initiative. The administrators of the project, AFF Research, LLC, are committed to the continuing success of the program and to the community of businesses that benefit from it. For more information on the program or how to get involved, please visit AFF's website by clicking here.
"Participating in the Green Bay Packers Mentor-Protégé Program provided me with access to experts who shared their wealth of knowledge to help me grow my business. Through this partnership, I learned how to better manage my time and improve my financial planning. The confidence I gained through this experience allowed me to seek out new opportunities to showcase my business." – Gail Okray