Our Key Elements for Animals
Jin Shin Jyutsu Animal Practitioners
Gail Okray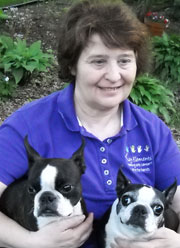 Gail Okray was inspired to open Key Elements for Animals by her passion for the Japanese art of Jin Shin Jyutsu® as well as her passion to work with animals of all kinds. She has been a Jin Shin Jyutsu® physio-philosophy practitioner since 1998. Over the years, Gail has given sessions to a variety of animal species, helping them toward a vibrant life through Jin Shin Jyutsu® self-care workshops and/or private sessions. Gail has been in the world of purebred dogs for over 30 years, competing in the show ring, agility, and rally competitions. Gail continues to raise Boston Terriers and compete in dog events.
Growing up on a farm near Green Bay, WI, Gail is comfortable with any size animal that needs a Jin Shin Jyutsu® session, from newborn kittens and puppies, to parakeets, donkeys or horses.
A life-altering illness led Gail to find the ancient Japanese art of Jin Shin Jyutsu®. Prior to that, Gail received her BS degree in Nutritional Sciences from the University of Wisconsin in Green-Bay. Gail worked in the quality assurance laboratory at a lake shore food company analyzing nutritional and microbiological components in their USDA accredited laboratory.
Gail shares her knowledge of the Japanese art of Jin Shin Jyutsu® with the community through self-care workshops.
Mary Hille
Mary Hille grew up in rural Green Bay, WI. While growing up on the family farm, Mary has worked with animals of all sizes. A Jin Shin Jyutsu® physio-philosophy practitioner since 2008, Mary shares animal sessions with horses. Just calling their names brings them running to the gate. Her favorite is a gray quarter horse is name Trophy. Trophy is over 20 years old with a congenital heart defect and has had a persistent limp her whole life. Regular sessions of the Japanese art of Jin Shin Jyutsu has reduced her limp and helps with all of her aches and pains. Trophy likes her Jin Shin Jyutsu sessions anywhere she is – many times with no halter, just an undisturbed spot in the paddock. Mary's daughter Jessica is an avid rider and Mary is able to share sessions with the horses that Jessica rides.